The following journal-based CME activities are made possible through a joint partnership of the journal with the Society for Vascular Medicine (SVM) and University of Virginia School of Medicine and School of Nursing.
CME credit and MOC points are available for reviewing manuscripts submitted to Vascular Medicine. Non-physician reviewers may earn hours of participation.
Accreditation and Awarding Credit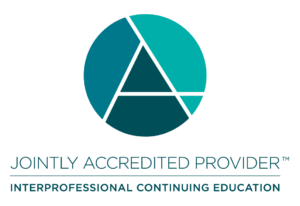 In support of improving patient care, this activity has been planned and implemented by the Society for Vascular Medicine and the University of Virginia School of Medicine and School of Nursing and is jointly accredited by the Accreditation Council for Continuing Medical Education (ACCME), the Accreditation Council for Pharmacy Education (ACPE), and the American Nurses Credentialing Center (ANCC), to provide continuing education for the healthcare team.
The University of Virginia School of Medicine and School of Nursing designates this activity for a maximum of 3.0 AMA PRA Category 1 CreditsTM per review. Physicians should claim only the credit commensurate with the extent of their participation in the activity.
The University of Virginia School of Medicine and School of Nursing awards 3.0 hours of participation for this activity (consistent with the designated number of AMA PRA Category 1 Credit(s)TM or ANCC contact hours) to a participant who successfully completes this educational activity.
Successful completion of this CME activity, which includes participation in the evaluation component, enables the participant to earn up to 3.0 MOC points in the American Board of Internal Medicine's (ABIM) Maintenance of Certification (MOC) program. It is the CME provider's responsibility to submit participant completion information to ACCME for the purpose of granting ABIM MOC II credit. UVASOM maintains a record of participation for 6 years.
Please note: MOC II credit will be reported quarterly. Credit received after November 30 of each year will be applied to the following year. IMPORTANT: Your ABIM number must be in your CME profile to be reported.
Learning Objectives
• Review latest advances in the field of vascular medicine including basic, translational, clinical, or population-based research
• Identify knowledge gaps in the field of vascular medicine and opportunities for future research
• Develop skills in critical appraisal of the medical literature and constructive peer review analyses
Eligibility Requirements
Reviews are rated by the Editors for quality and timeliness on a scale of 1-3. To be eligible for credit, the reviewer must receive an average composite score of at least 2.0.
The metric for quality of review is based on the quality of comments. For example, a score of 1 = review is below average (1-2 sentences with no suggestions for the authors); 2 = review is sufficient (succinct, focused review with a few suggestions for the authors); and 3 = review is above average (comprehensive and thoughtful review with highly detailed feedback for the authors). For timeliness, a score of 1 = review was severely delayed (> 22 days); 2 = review was slightly delayed (15-21 business days); 3 = review was on time (0-14 business days). For example, a slightly delayed, high-quality review would receive a 3 for quality and 2 for timeliness, which is 2.5 composite score.
Eligible reviewers will receive instructions for claiming credit in a separate email from the editorial office after the decision letter is sent to the authors. The instructions will contain an activity code for the online evaluation, which must be completed before the deadline to received credit. Activity codes are sent once/month around the 15-20th of each month and expire on the 1st day of the following month. Appropriate credit will be recorded when the online evaluation is completed.
Disclosure Policy
Disclosures of the planning committee
The Vascular Medicine planning committee has no financial relationship or interest with any proprietary entity producing healthcare goods or services. See below for additional disclosure information.
Disclosure of faculty financial affiliations
The University of Virginia School of Medicine and School of Nursing as a Joint Accreditation Provider adhere to the ACCME Standards for Integrity and Independence in Accredited Continuing Education, released in December 2020, as well as Commonwealth of Virginia statutes, University of Virginia policies and procedures, and associated federal and private regulations and guidelines. As the accredited provider for this CE/IPCE activity, we are responsible for ensuring that healthcare professionals have access to professional development activities that are based on best practices and scientific integrity that ultimately supports the care of patients and the public.
All individuals involved in the development and delivery of content for an accredited CE/IPCE activity are expected to disclose relevant financial relationships with ineligible companies occurring within the past 24 months (such as grants or research support, employee, consultant, stock holder, member of speakers bureau, etc.). The University of Virginia School of Medicine and School of Nursing employ appropriate mechanisms to resolve potential conflicts of interest and ensure the educational design reflects content validity, scientific rigor and balance for participants. Questions about specific strategies can be directed to the University of Virginia School of Medicine and School of Nursing of the University of Virginia, Charlottesville, Virginia.
The faculty, staff and planning committee engaged in the development of this CE/IPCE activity in the Joint Accreditation CE Office of the School of Medicine and School of Nursing have no financial affiliations to disclose.
Disclosure of discussion of non-FDA approved uses for pharmaceutical products and/or medical devices
As a Joint Accreditation provider, the University of Virginia School of Medicine and School of Nursing, requires that all faculty presenters identify and disclose any off-label or experimental uses for pharmaceutical and medical device products.
It is recommended that each clinician fully review all the available data on new products or procedures prior to clinical use.